2ND INTERNATIONAL STAKEHOLDERS CONFERENCE ON SDGs 2019 (INSTACON-SDG19) 26th – 31st August 2019
Theme: Localising the SDGs at Subnational level in Nigeria-Gains, Opportunities, and Challenges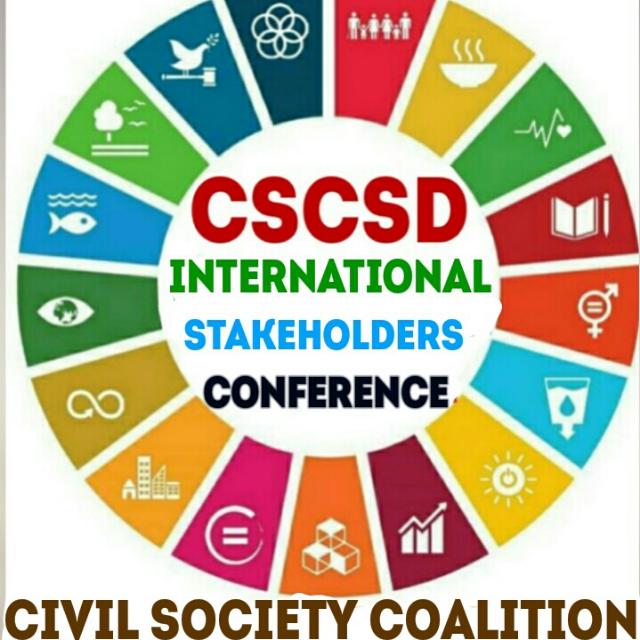 SUB-THEMES
Intersectionality and Working Together to Localise the SDGs (Goal: 10, 16, 17)
Education for Sustainable Development, learning to Act, learning to Achieve (Goal:4, 8, 10, 16)
Implementing SDGs: actors and policies needed and barriers to overcome. (Goal: 16,17)
Nutrition: a maker and marker of development to support the achievement of each Sustainable Development Goal. (Goal: 2,3,4,8,10,16,17)
Health Inequities, Social Determinants, and Intersectionality (Goal: 2, 3, 10, 16)
Inequalities: the Bane of Realization of SDGs – Issues and Insights (Goals 2, 3, 4, 5, 8, 10, 16, 17).
Peace and Security at Subnational Levels (Goals 4, 5, 8, 16 and 17).
INTRODUCTION
In 2015, Member States of the United Nations adopted an ambitious plan to eradicate poverty, fight hunger, tackle climate change and save the planet from environmental degradation. This global agenda, according to the UN, is a plan of action for people, planet, prosperity, and peace. All countries and all stakeholders, acting in collaborative partnership, are to implement this plan. The Government of Nigeria in January 2016 at the national level committed to implementing the 17 Goals, together with its 169 targets by putting in place the presidential council on SDGs, the Private Sector Advisory Group on SDGs and Policy framework for implementation roadmap. But this does not address the challenges of implementing SDG at Sub-National level.

Nigeria runs a Federal system with three tiers of government, where the state has its own autonomous plan. Both the state and local governments have prerogatives completely separate from the Federal Government. They are the tiers of government closest to the people. However, most states are still lagging behind because of lack of a clear policy framework to mainstream the SDGs at the two levels. Effective implementation of SDGs and 2030 demands the adoption of a multi-stakeholder approach with a clear strategy to accelerate the process

However, In 2018, Coalition of Civil Society on Sustainable Development CSCSD Ogun state organised the 1st International Stakeholders Conference On SDG (INSTACON-SDG18 )with the theme "Achieving Sustainable Development Goals in Ogun State through Integrated and Innovative Partnership Approach"It was the 1st International conference at the sub-national level in Nigeria, a lot of progress and gains has been achieved due to the convergence and moving further on the implementation of Agenda 2030 in Nigeria, CSCSD National is now ready to leverage on the gains and converge for the 2ND INSTACON-SDG19.

The scale and ambition of this new agenda call for smart partnerships, as well as integrated and innovative approaches to sustainable development. It calls for collective action at all levels since no one nation, sector or segment of society, acting alone can achieve it. Certainly, Governments, acting alone, will not deliver the SDGs. Through the 2030 Agenda and the sustainable development framework, nation states have recognized the imperative of a revitalized partnership, that is, an intensive global, national and local level engagement in support of implementation of all the goals and targets; bringing together Governments, civil society, the private sector, the academia, media and other non-state actors and mobilizing all available resources.
OBJECTIVES
To facilitate the emergency of an inclusive state institutional arrangement, Integrate the SDGs in an inclusive and people-centered manner for an effective implementation of agenda 2030.
To develop a robust roadmap for mainstreaming the SDG at the state level.
To present and exchange lessons, innovations, experiences and perspectives in developing and adapting national policy framework capacities in light of the SDGs;
Promote public policies that create real changes to reduce inequalities across sectors Identify opportunities for complementing Government efforts towards domestic resource mobilisation for SDGs implementation.
Explore the implications of the SDGs for principals, principles and practices of data revolution
To improving the knowledge of the youth regarding SDGs and creating a platform for them to participate in implementing SDGs
EXPECTED OUTCOMES
The conference will assess progress made, identify existing barriers, bottlenecks and challenges, and exchange experiences and share good practices amongst participants on ways for overcoming these;
INSTACON SDG19 will provide a platform for effective collaboration and partnership among the private sector, government, civil society, media and academia towards effective mainstreaming and implementing agenda 2030 at the sub-national level.
Improved knowledge about the processes, institutions and structures required to put in place initiatives relating to sustainable development;
Improved knowledge of capacity development and technical assistance needed to achieve integrated sustainable development programmes;
Enhanced awareness of integrated approaches for the development and implementation of State and local government level development strategies through the development of a community of practice and the establishment of data revolution think tank group.
A publication containing selected expert papers on key topics discussed at the Conference including state-level and Local government level case studies (drafts will be presented as background);
A set of concrete recommendations for strengthening the implementation of SDG at sub-national level
PARTICIPANTS
Participants expected for INSTACON-SDG19 are actors from Africa, Europe, Asia, North American and the Caribbean. Experts in Development work from National, sub-national and Local level, the Government of all 36 State, Legislatives, MDAs, Organised Private Sector, Professional group, Academia, Media, Trade Unions, LGAs, LCDAs, CSOs, FBOs, CDAs, PWDs, Traditional institutions, Ethnic and minority groups, Artisans, Women groups, Youth, Labour Unions and other non-state actors
ORGANISATION
Civil Society Coalition on Sustainable Development (CSCSD) will lead the planning of the INSTACON-SDG19 in Partnership with all the 36 State Government and particularly the six state government of the southwest geo-political zone. CSCSD is a coalition of over 2000 registered civil society and nongovernmental organizations spread across the six geo-political zones of Nigeria. CSCSD National Steering Committee (NSC) is committed to making INSTACON-SDG 19 hosting, practical and feasible for most CSCSD members and participants. To achieve this goal, NSC has made conference planning and management a shared responsibility between the host state, LOC and NSC. With this arrangement conference, LOC and hosts can concentrate on aspects of conference organization that can best be done by those with local knowledge, technical skills and capacity.

To this end, CSCSD-NSC assumes the intellectual ownership of the conference including the main responsibility for the program and sponsorship opportunities. LOC takes on most of the financial and technical administration while the conference host concentrates on logistical matters.
TIMING AND DURATION
The event is scheduled to hold between Monday 26th and Saturday 31st August 2019. It will consist of a total of five plenary sessions. This will include three morning sessions and two afternoon sessions. The tentative sessions will be published on the conference website.
VENUE
June 12 Cultural Centre Kuto, Abeokuta, Ogun State, Nigeria.
PROCEEDINGS
All documentation and presentations will be made available to participants in electronic format. The electronic proceedings will be published as a journal.
CONFERENCE CORE ACTIVITIES
The event will take place over five days, beginning with day one of arrival and dinner for International participants with pre-conference for youth followed by three days dedicated to the Conference and day four as tourism day 5 as departure. The conference will be designed to provide all participants with multiple spaces for engagement. A mix of plenary sessions and parallel strands on a range of topics will be organized, using a variety of formats including keynote speakers, paper presentations, and panel discussions, as well as innovative arrangements that facilitate more informal discussion and sharing of experiences between partners.

Decoration of SDG champions
The selected individual for SDGs champions will be individuals from Nigeria that have made their mark in various fields of Art, Entertainment, Music, Movie, Leadership, Science etc. They are selected to facilitate change by popularizing, advocating, mobilizing and creating awareness through their skills on the 17 SDGs
PARTNERSHIP/SUPPORT
Expected Partnership Support from State Government
Target 17:17 of Goal 17 of the SDGs obtains to encourage and promote effective public, public-private and civil society partnerships, building on the experience and resourcing strategies of partnerships. To this end CSCSD national hereby seek partnership support from the Government at sub-national level for the following:

Mobilisation of at least 6 senior level delegates per state from MDAs, LGAs, LCDAs, as Participants
Customization of IEC material from all state depicting State SDGs activities;
Financial support for other exigencies
Media Coverage of Event by State Owned Media;
Hosting of International Participants to Dinner and befitting accommodation

Expected Partnership Support from Private sector
The private sector has a critical role to play as a source of finance, as a source of the driver of innovation and technological development and as key engine of economic growth and employment. To this end, partnership support shall include:

Customised SDG branded products for awareness creation

Support for printing of journals, program of event, Pull-up banners, Flex banner back-drop,

Financial support for other exigencies